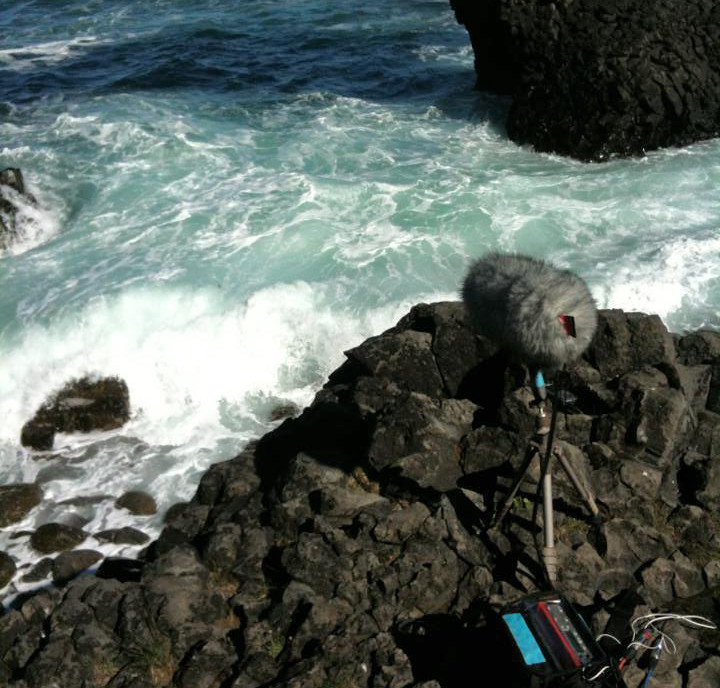 Iceland Wildlife Recording
Some of these recordings were used for sound design on Batman: Arkham Origins and Gears of War: Ultimate Edition.
Man made noise is everywhere, it's invasive and masks a place's natural sound, it's more or less accepted as part of life.  Stand in a field in the south of England and you will hear the drone of distant motorways and planes flying overhead.  Such noise is measured and regulated so it never gets above a threshold but there are no really quiet spaces left around here.
Chris Watson writes about how invasive man-made noise is, Bernie Krause discusses measuring the well-being and emotional state of the environment with sound.  Measuring natural sound as an indicator of the state of the environment in an area is not well known and no where near common enough.
I'm constantly frustrated by how noisy England is, it often makes recording things outdoors a challenge.  I do plenty of field recording as part of my game audio work which is hugely enjoyable, but attending Wildeye courses means I can completely indulge myself in listening to the environment.
Iceland isn't far from the UK, but It's dramatic landscape, people, history and amazing wildlife make it feel very different.  I went to Iceland in June for my 3rd Wildeye recording trip in as many years.  I've written about my previous recording trip to Sweden here – http://milanese.co.uk/sound_design_blog/?p=246
To say I was excited for the trip would be a huge understatement!
I packed a M/S mic rig consisting of a MKH416 & MKH30, a SD702T recorder, two DPA4060 omnis, a Zoom H4N and a JRF C-Series Contact Mic.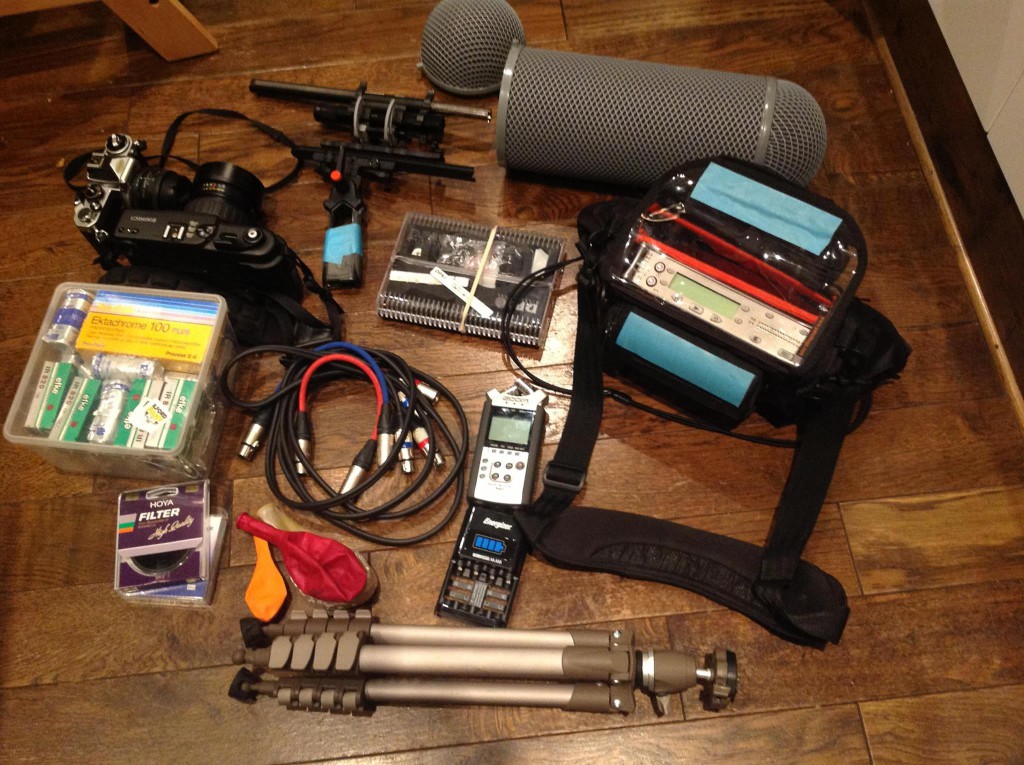 I also took a Fuji GSW690III camera, which is great for landscapes with a really wide lens and shoots 8 giant negatives on a roll of medium format film.  I also took my trusty early 1980s Nikon FE 35mm SLR.  Both a heck of a lot less convenient than digital, especially if you're changing a roll while on top of a mountain or on some rocks by the sea, but I like film and I like learning the craft of working with it and developing my own film.
We arrived in Iceland and made our way to Snæfellsnes peninsula, where our cabins were situated in lush green fields beneath black volcanoes edged with waterfalls, a short distance from the sea.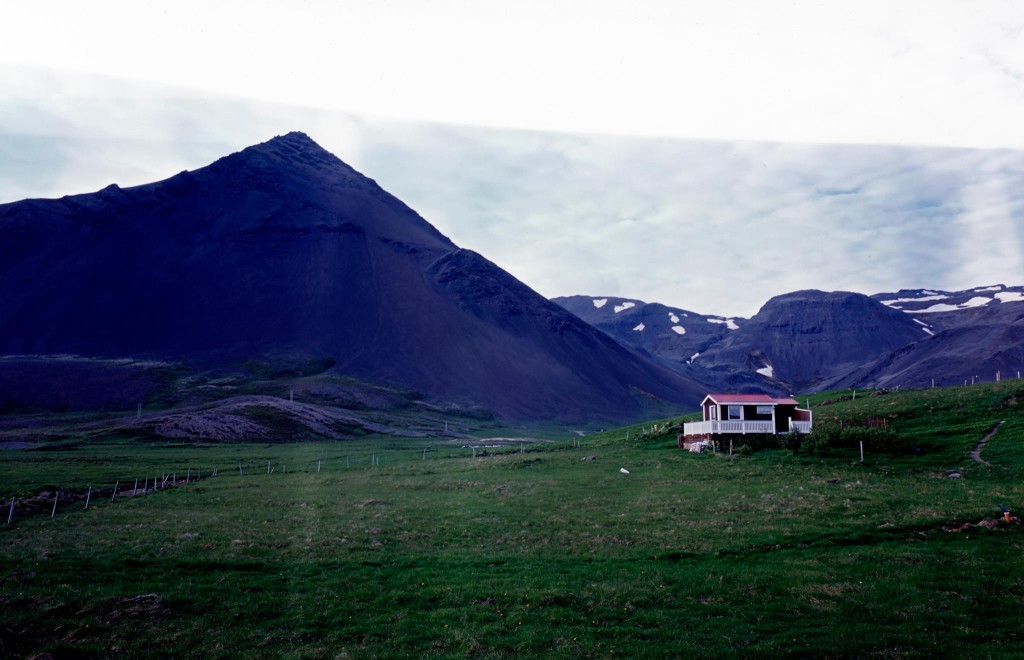 One of the best things about these Wildeye trips is that you are guaranteed to meet a lovely bunch of people who really care about listening and recording.  From all sorts of backgrounds, music to radio, and film to games, everyone's there to listen and take home as many awesome recordings as possible, learn from the tutors and make friends in the process.
On arrival we set up a quad genelec speaker system and listened to some pieces by Chris Watson and Jez Riley French while looking out to Snæfellsjökull mountain.  I knew the landscape was going to be impressive but I was still floored by how beautiful it was.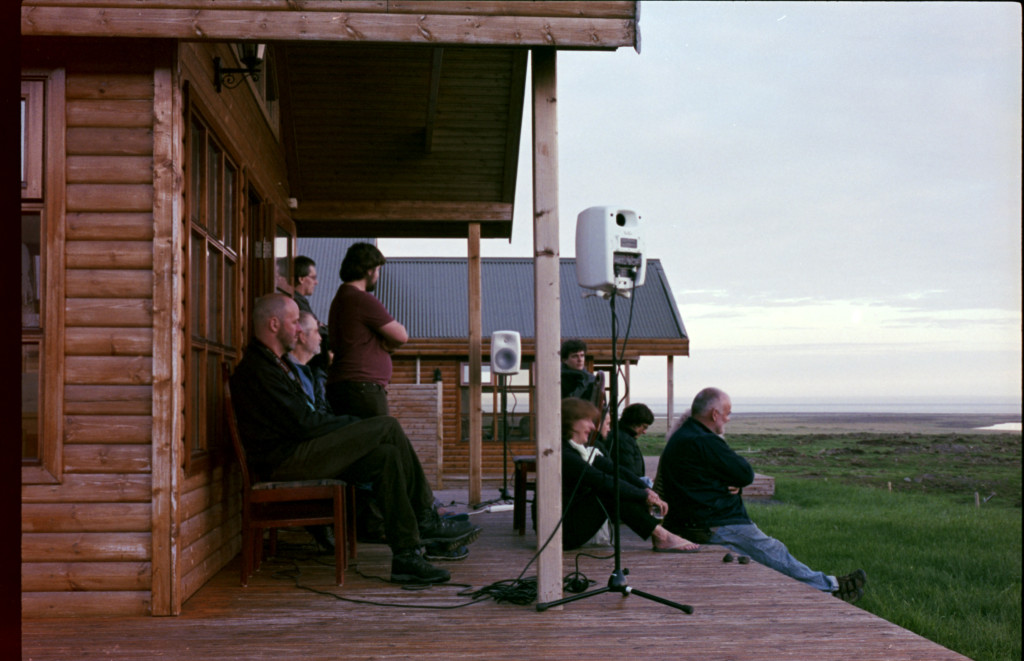 On the first full day we visited Vatnshellir Cave, an 8000 year old lava cave.  At around 200 meters long and quite far underground the cave is in total darkness with no sound from above ground.  The rock floor and walls of the cave weren't really sharp or jagged, more rounded and textured, making the sound much less resonant than I expected. it was also very wet so my recordings of the cave is a lot of scary dripping.  It felt like how I imagine it would be in the derelict space craft from the film Alien.
Here's a clip from inside the cave – MKH 416/30 –
This picture isn't one of mine it's from a tourist website, there were no lights when we went, I just thought this shows the scale of the entrance well.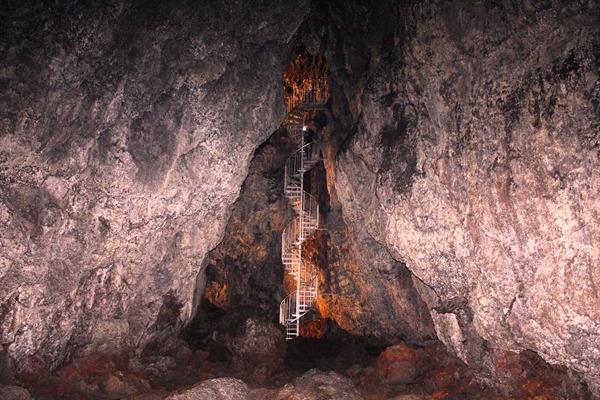 Here is what it looked like at the other end of the cave to me with only torchlight and equipment LEDs, surprisingly my old 1980s Nikon FE (with ISO200 film) managed the shot fairly well, then again, I did leave the shutter open for about 5 minutes  –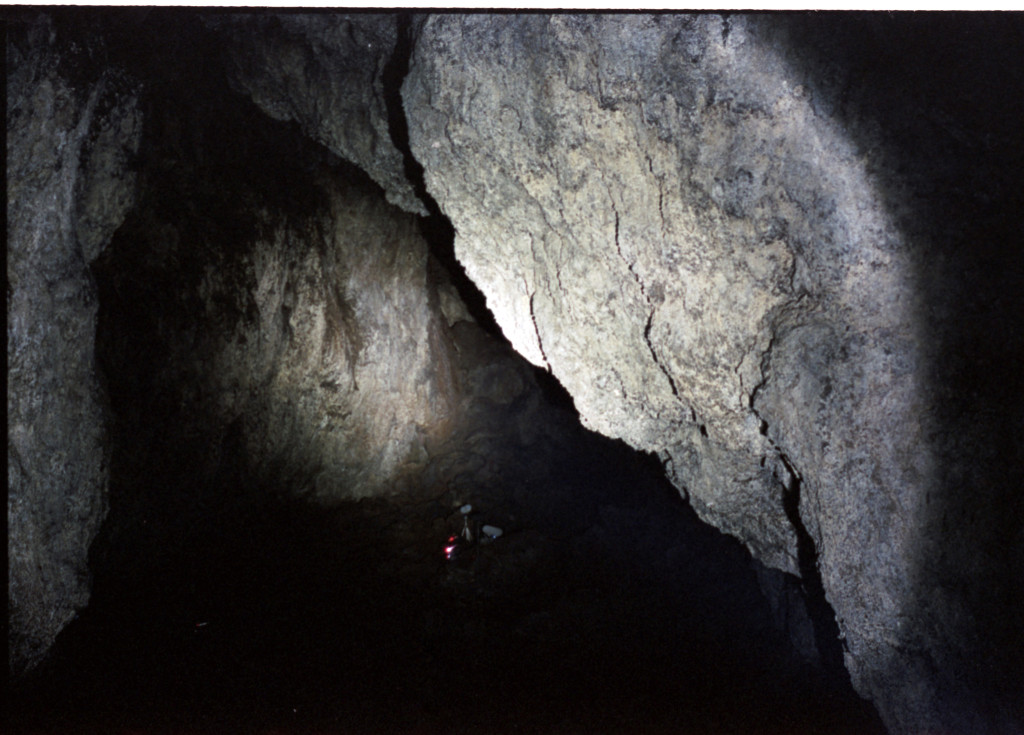 After doing some more recordings in the cave which included some very un-resonant balloon pops (attempts to capture cave IRs, foiled by the sheer natural diffusion of the cave wall texture, and of course the dripping), we explored some other nearby areas.
Here's a recording from the lava beach below, very beautiful location with black rocks, just behind there were reddish rocky structures.  The sea was quite calm – MKH 416/30 – 2m from the wash –
I got quite a few recordings from this location, this is my favourite as it has a nice balanced depth to it.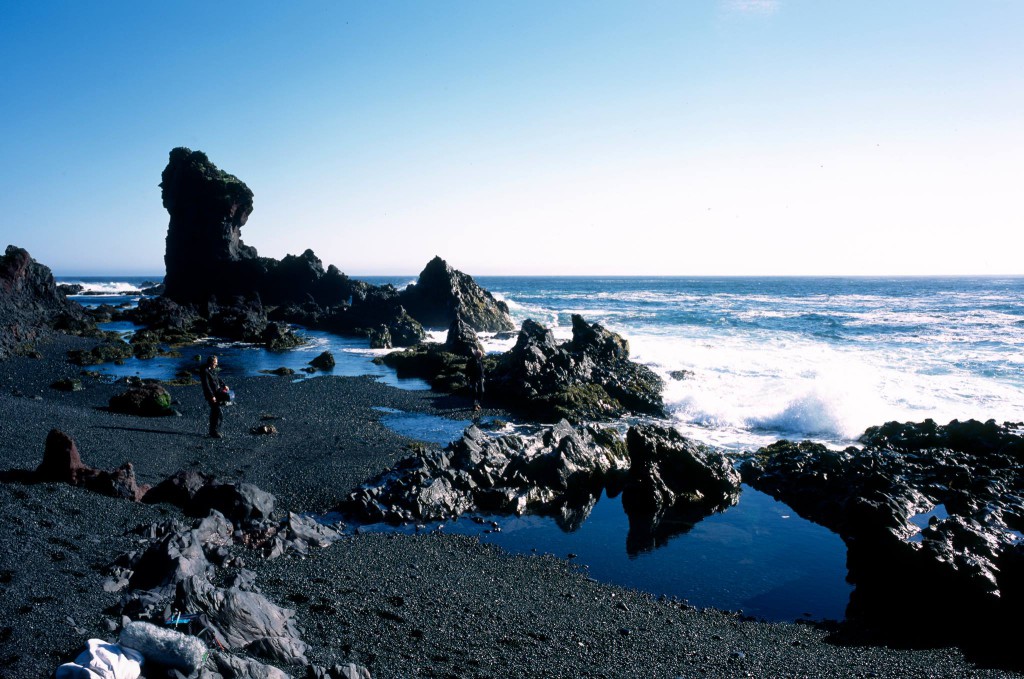 Then, while walking from the beach to another location, some recordings on the way of a stream – MKH 416/30 – 50cm above the water –
Now the same spot in the stream but using one of Jez Riley French's Hydrophones –
After a lovely Icelandic home-cooked dinner (or tea, if you are Jez), I went exploring near the cabins.  Now well into the night it was still light, the mountains in the distance perfectly visible with clouds lingering.  I headed for the coast.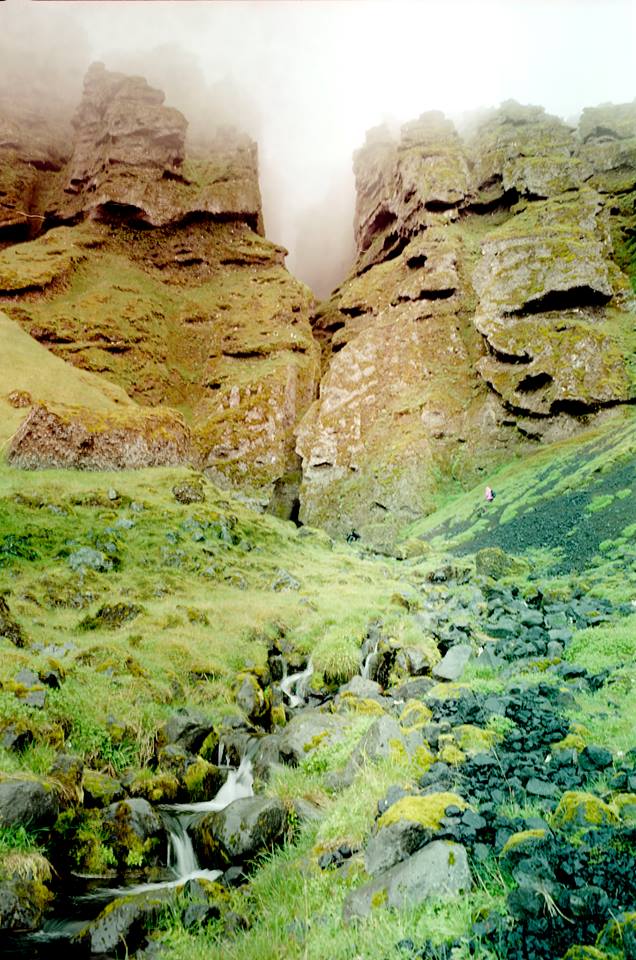 After around 30 minutes of walking I came across a tiny bird running along the road by itself, there were no cars or other people for miles so I paused and recorded it – MKH 416/30 –
Not a happy little chick.   Moments later the alarm call from two adults circling – MKH 416/30 –
After that performance of avian Steve Reich (also see http://milanese.co.uk/sound_design_blog/?p=139 ) I moved away from the birds so they didn't get too annoyed.

The next day we did some contact mic recording on the steel support cables of the tallest structure in western Europe, the long wave radio mast Hellissandur.  An awesomely tall metal tower at 412 meters high, the support wires cast out far into the surrounding area, it took several minutes to walk from one cluster of guy wires to another.  Jez seems to have a sixth sense for this, able to predict which wires under different conditions might yield the best results.  There's a little wind noise but I was still really pleased with the recordings.
Singing steel wires in the sun – JRF C Series contact mic –
Much more bass in this one – JRF C Series contact mic –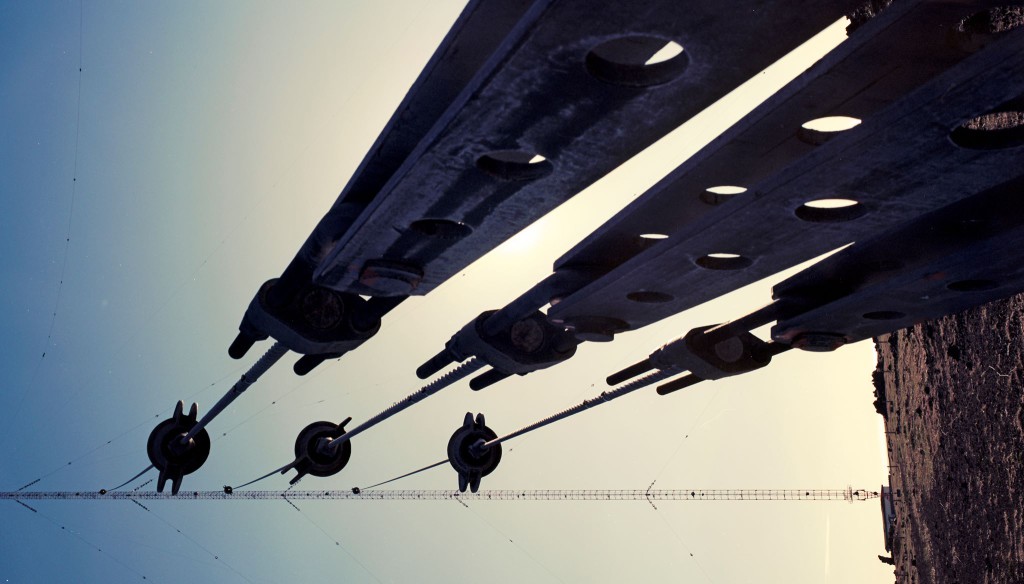 Day 3, we went up onto Snæfellsjökull volcano, near the glacier on the summit.
Halfway up we stopped at a song cave or Songhellir for some impromptu eerie singing – see this video in Steve Benner's Facebook Post –
After we scared everyone else off with our wailing I recorded some balloon pops – this is fairly loud so mind your speakers – DPA4060 Pair –
Exiting the song cave not looking suspicious at all, like I've just been making really loud noises somewhere I'm not supposed to.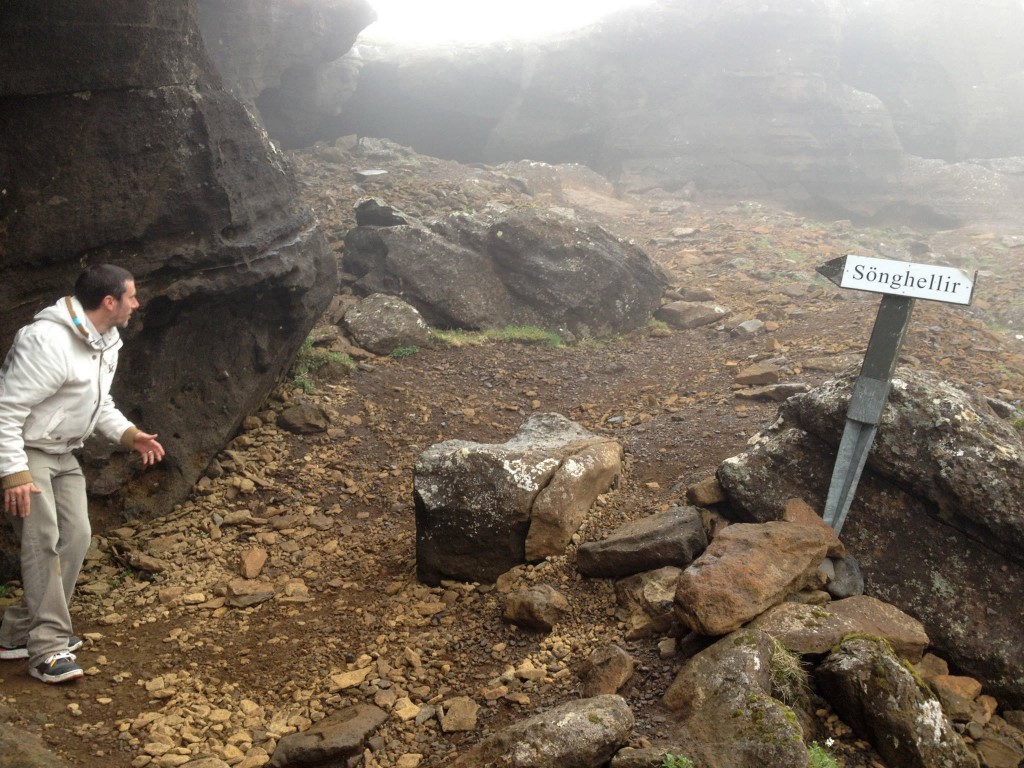 Further up towards the summit where it got really cold I made some wind recordings with distant birds.  These recordings are pretty quiet, it's best not to turn your speakers up really loud because that'll make the recording feel unnatural, best to listen back in a quiet space if possible – MKH 416/30 –
Less birds and more wind – MKH 416/30 –
While on the mountain the atmosphere was very foggy, but it cleared for a short time enough to see out to sea.  I took a few Infra Red pictures with some old Efke IR820 film, I was pleased when they revealed i was basically in Mordor.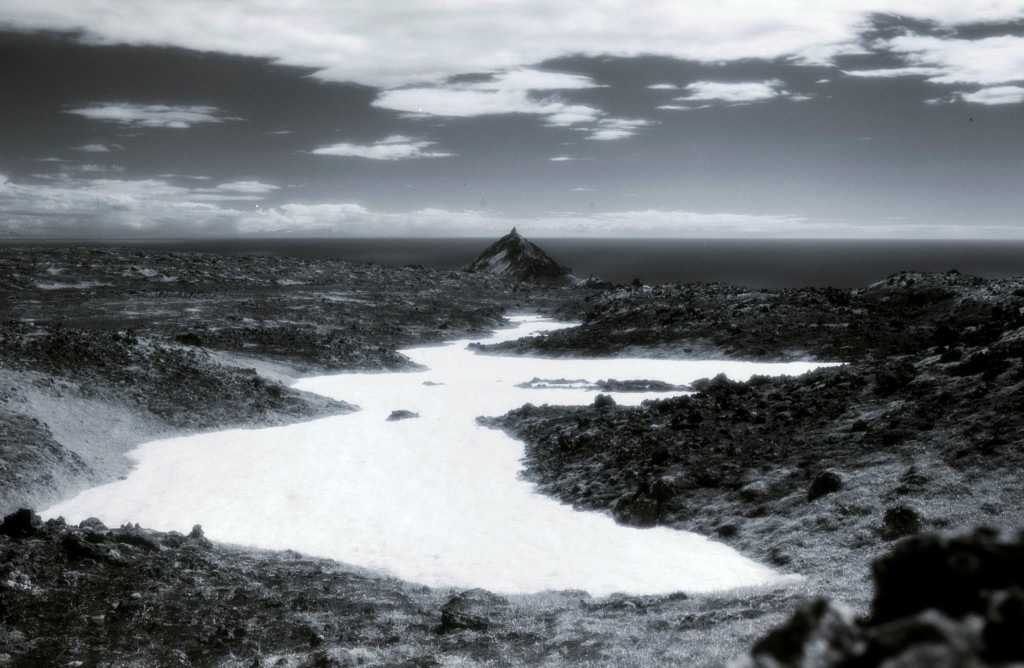 Later, a trip to Arnastapi near the house of our guide and local sound recording fanatic, the wonderful Finnbogi Petursson –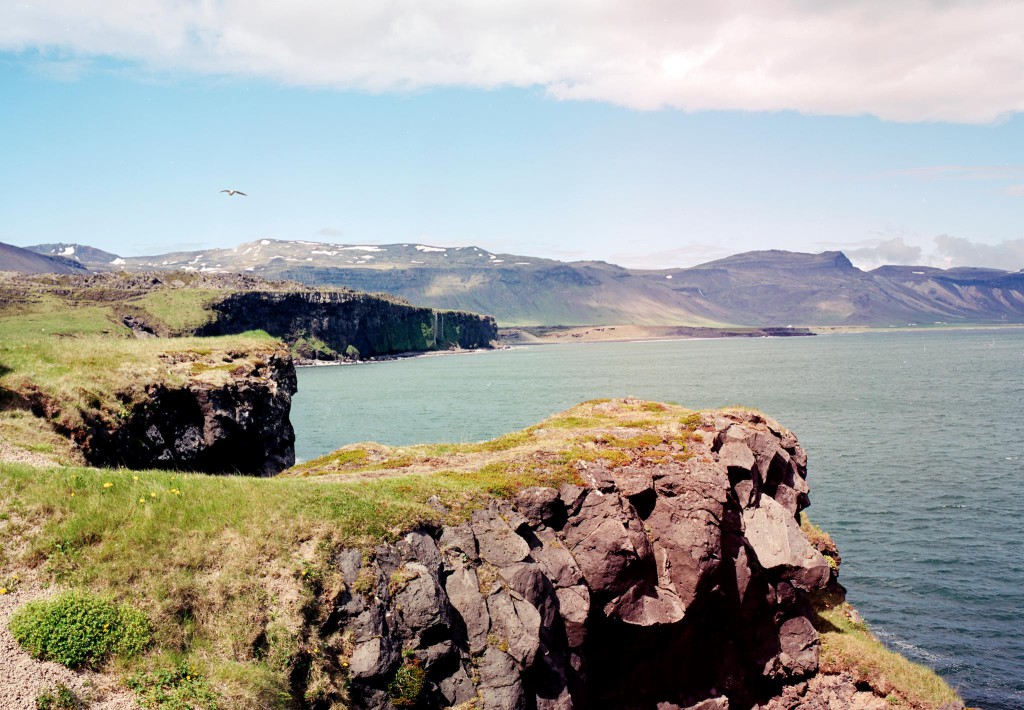 Here's some recordings from nearby Hellnar in a sheltered, rocky cove filled with expressive flying bugles – DPA 4060 Pair –
Slightly further back – MKH 416/30 –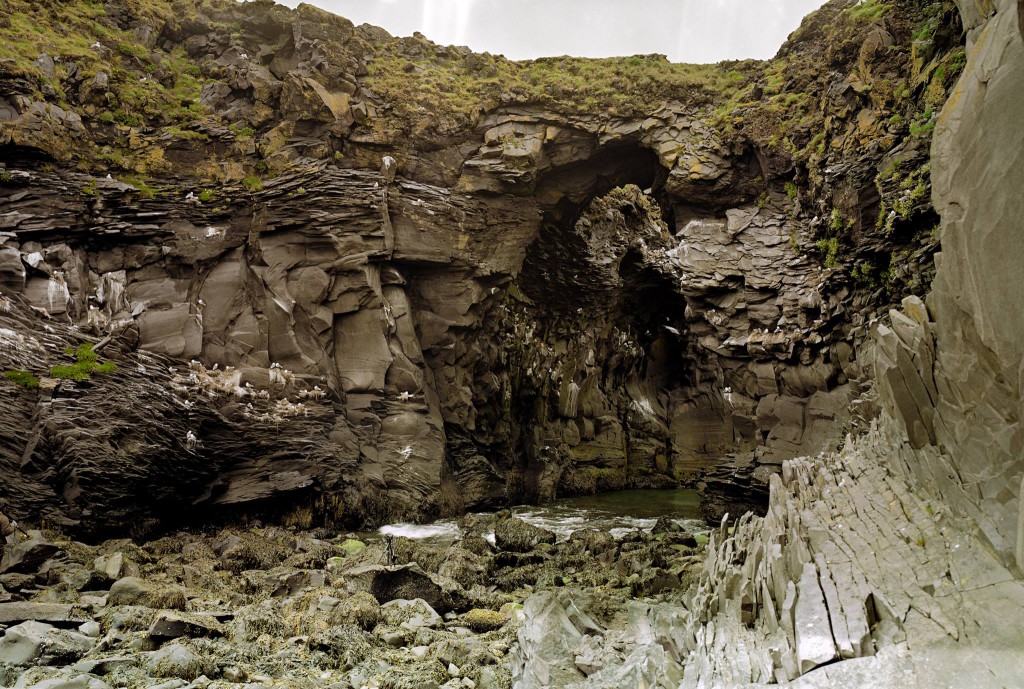 The next day some went with Chris to explore other areas of the Peninsular, I went with Jez back to the Hellisandur radio mast.  This time the steel wires were rattling percussively  – 2 x JRF C Series contact mics –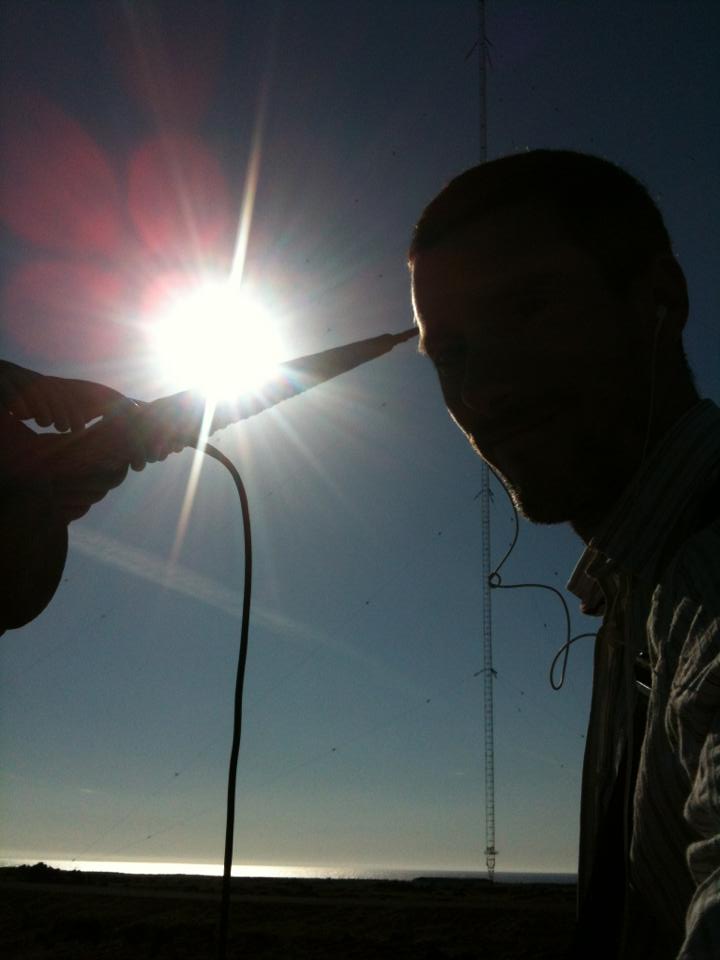 After a couple of more days of exploring, we found an old rusty grinding contraption and mic'd the hell out of it, here's the DPA 4060 Pair –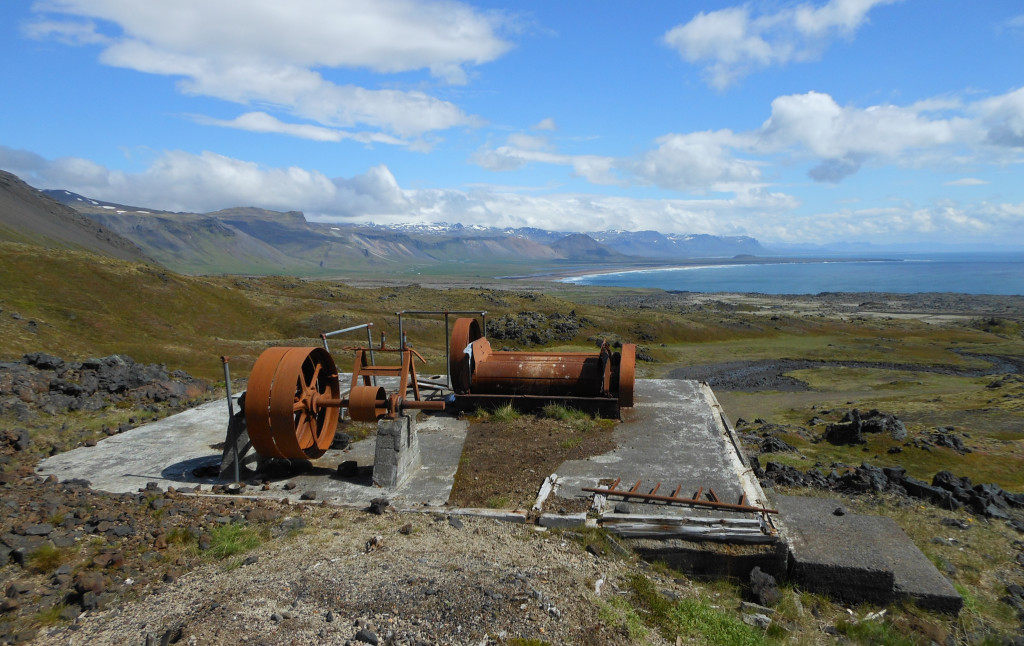 Thanks to Lisa Whistlecroft for the awesome photo!
A trip back to the coast at Arnastapi and this time the waves were bigger and there were no birds.  I almost lost my mics doing this, they were set up about 2 meters from where the waves were crashing, right at the end of this file you can here the Rycote getting smashed by a wave, I managed to save it, I almost got pulled under too.  I used this recording as the sea around Blackgate Prison in Batman: Arkham Origins Online, except for the end bit obviously! – MKH 416/30 –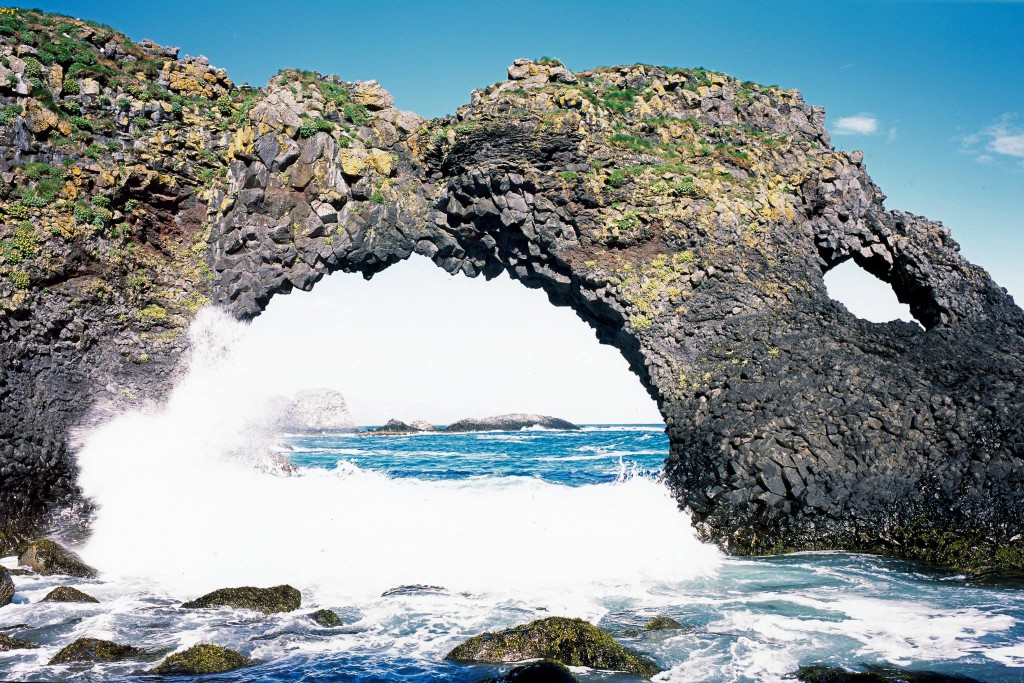 My final recordings were of some boiling mud pools, just listening to these immediately brings back the thick smell of sulphur.  I found a use for these on Batman as well, as sweeteners for the toxic chemical vats in the chemical plant – H4N Built in mics –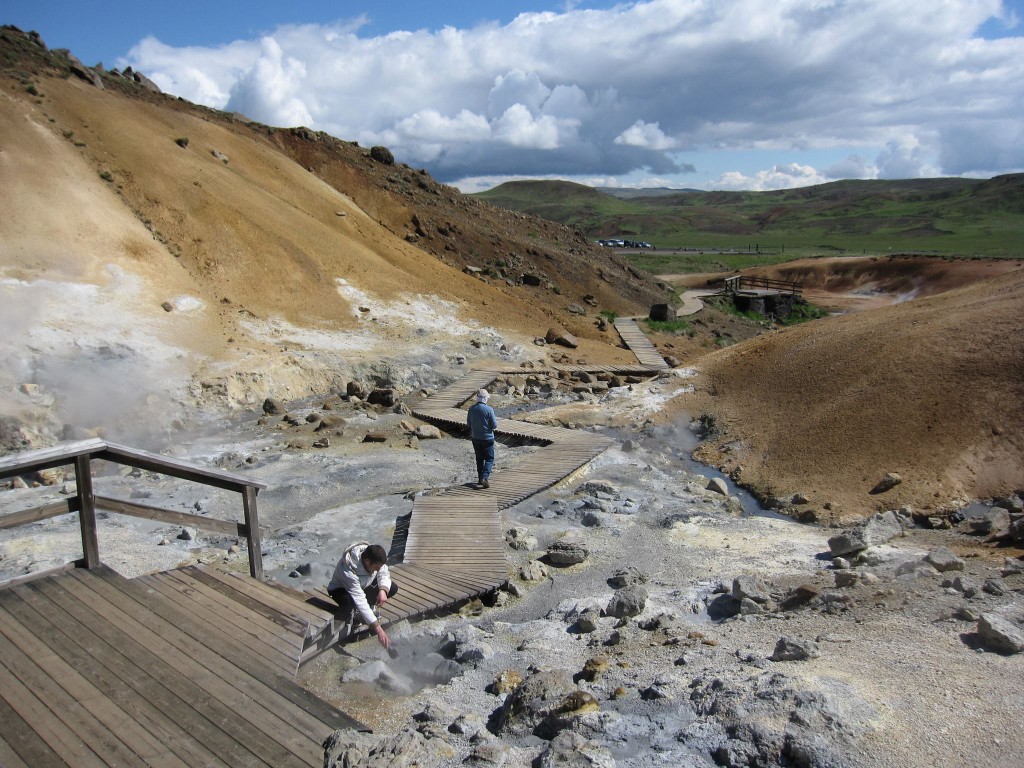 I cannot recommend the Wildeye courses highly enough, not only are the locations well chosen for a great variety of recording opportunities, but the discussion with the tutors is invaluable.  Hearing about Chris Watson and Jez Riley French's many years of experience recording all manner of things around the world is priceless.  I could listen to them discuss techniques they've used for recording animals in exotic locations or giant metal structures with contact mics all day.  I got loads of other recordings but this post would get a bit silly if I put any more up!
Wildeye Courses – http://www.wildeye.co.uk/iceland.html
JRF Blog, Contact Mics & Hydrophones –http://jezrileyfrench.blogspot.co.uk/
Chris Watson –http://www.chriswatson.net/
Here are some other pictures from the trip.
The Hidden folk.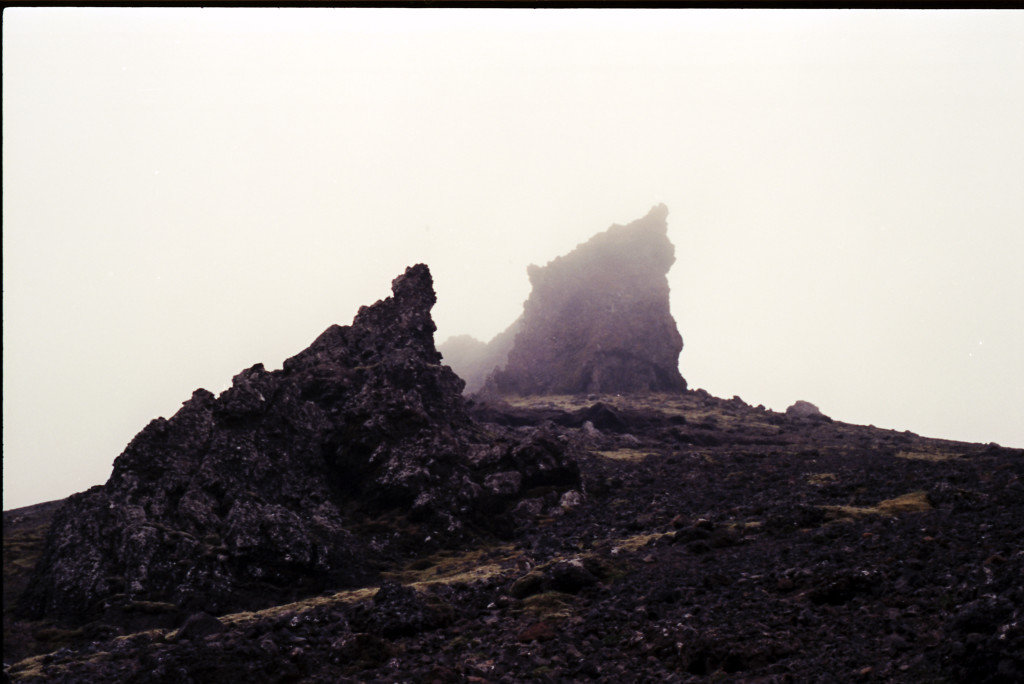 No clue what these pipes were doing on the mountain but i recorded the wind through them anyway.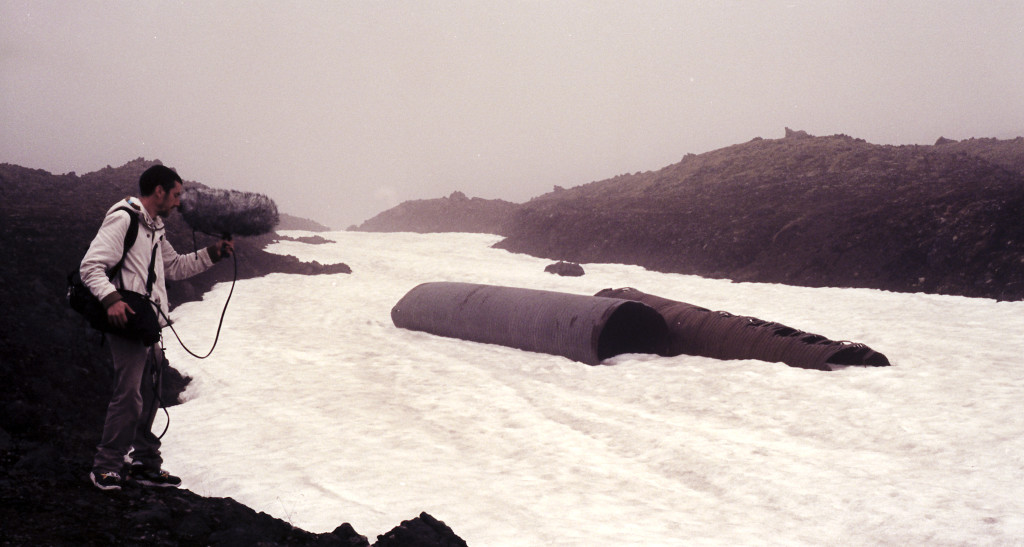 Boiling mud pools.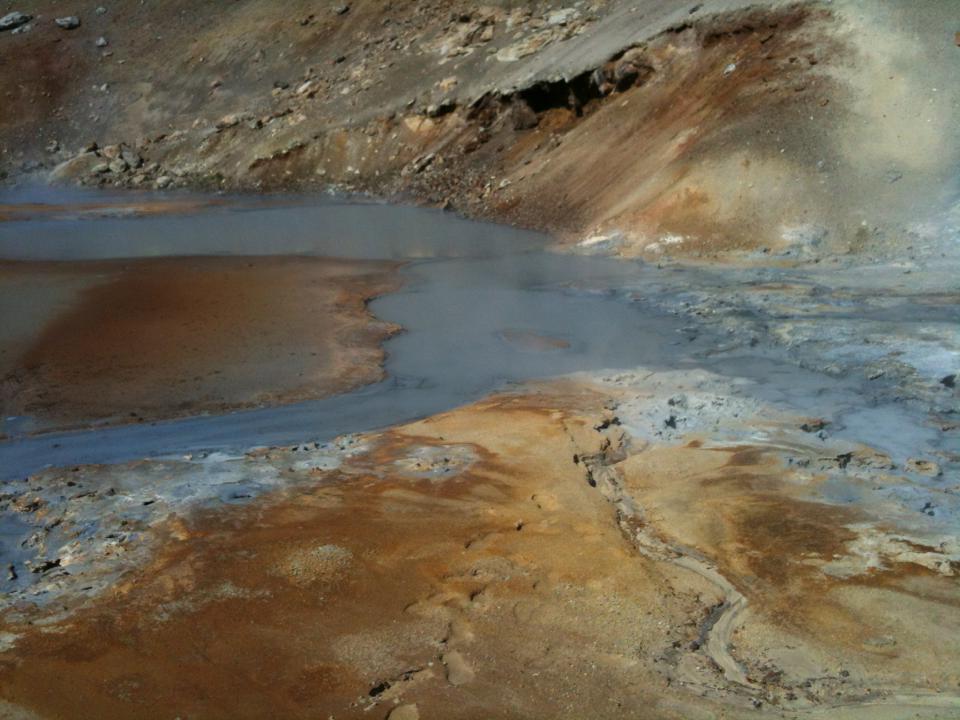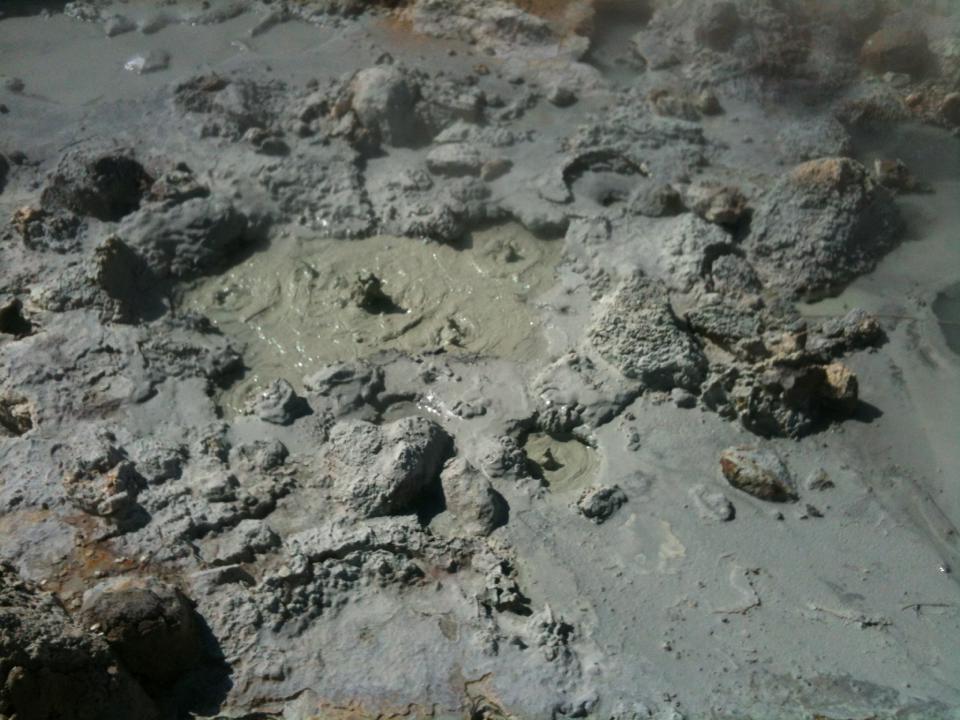 Into the 8000 year old cave.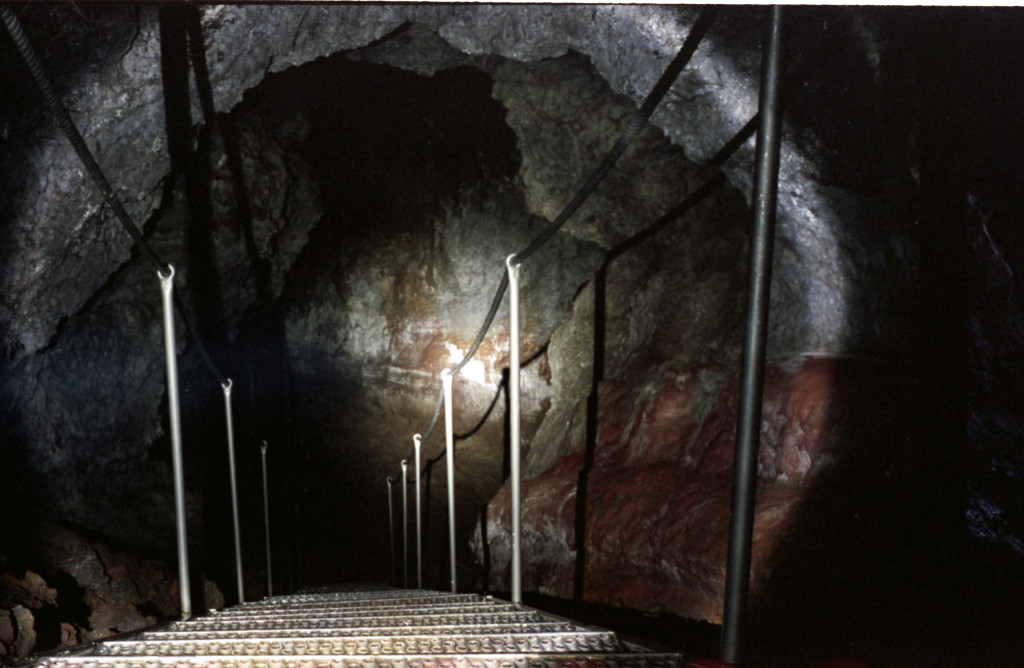 Fun with IR film on the mountain.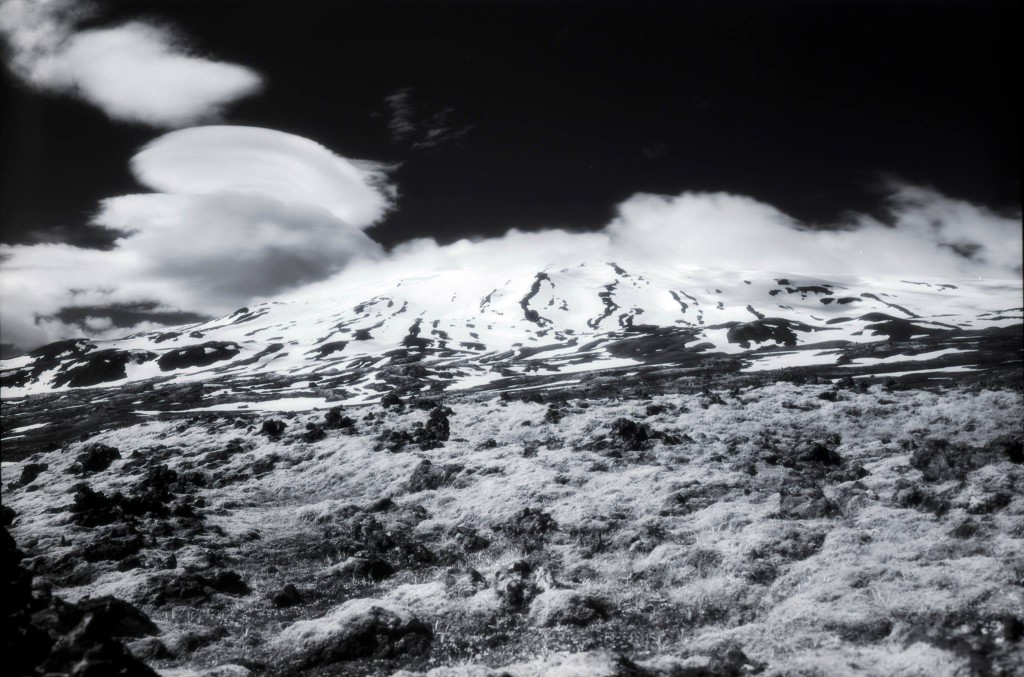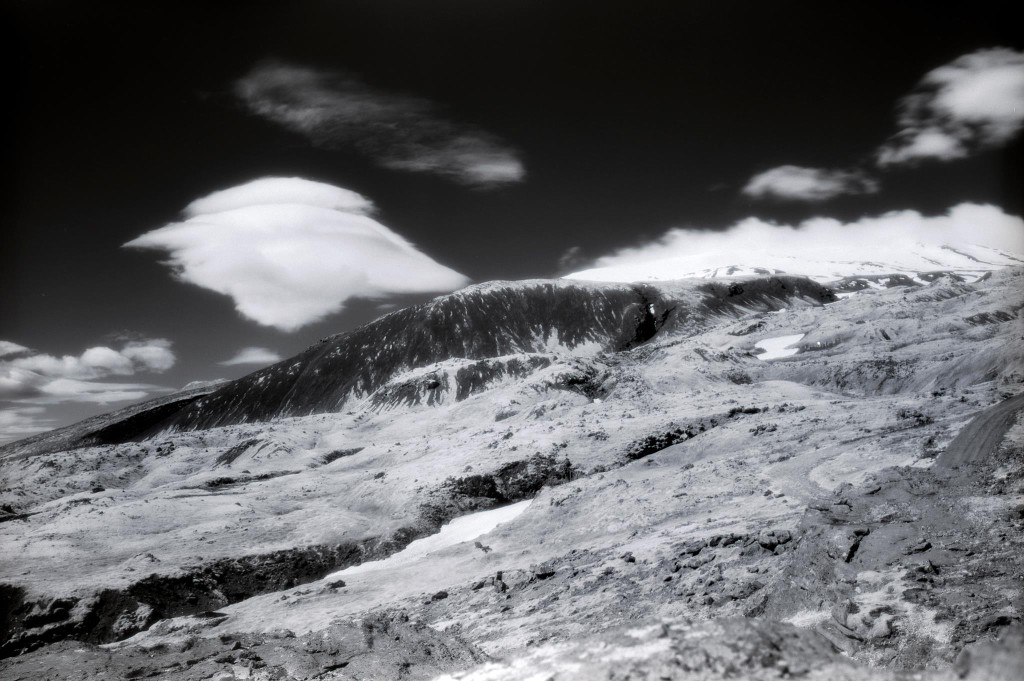 Shipwreck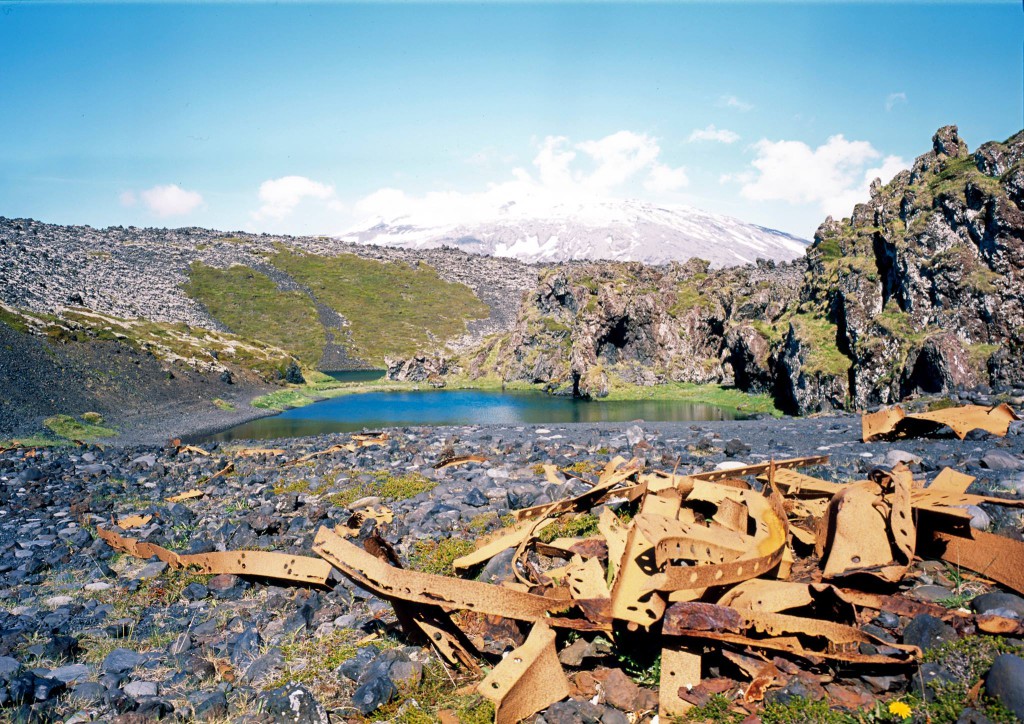 Massive radio mast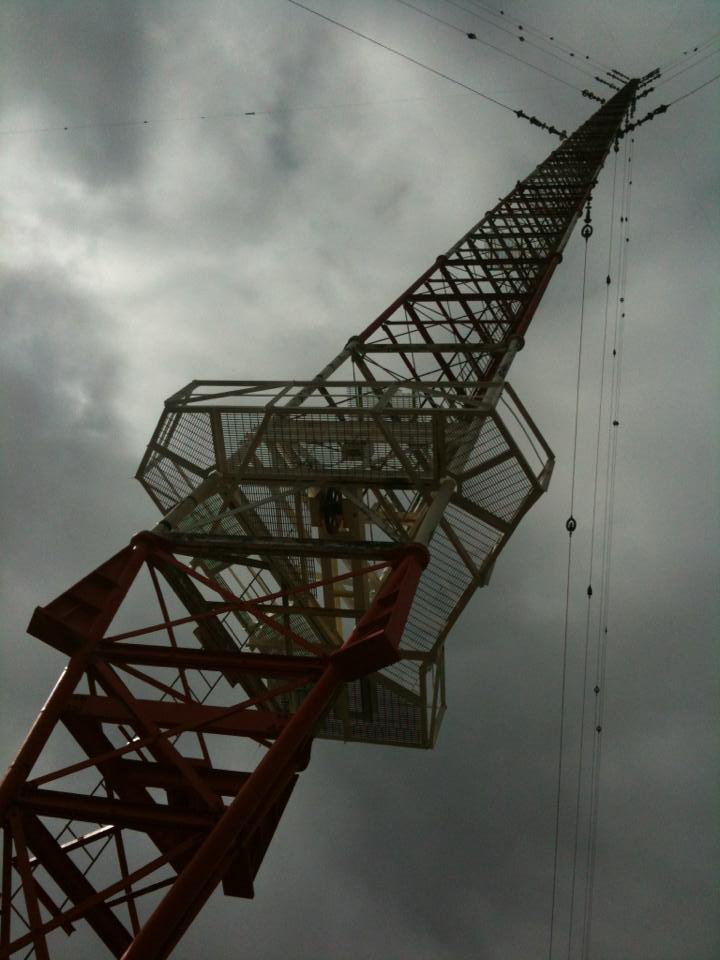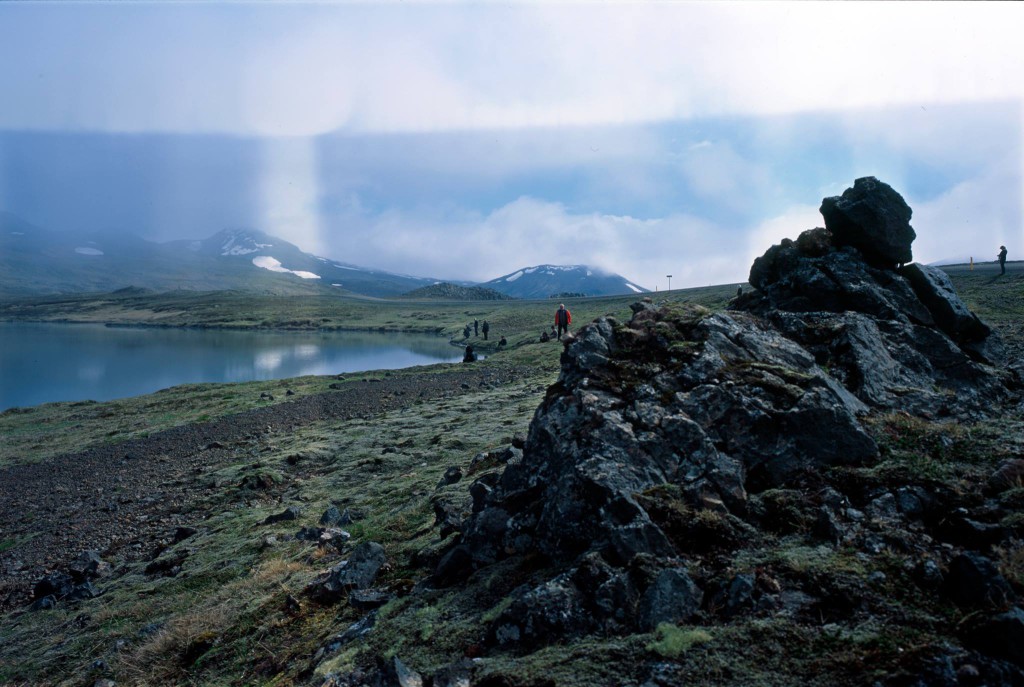 When your film dev chemicals don't cover the top of the photo you get bands of partially developed weirdness.
IR waterfall